Acoustic Room Dividers
Divide Up Rooms and Customise Your Space with Ease
Lightweight, flexible, and highly portable, acoustic room dividers allow you to temporarily divide up your space without ever having to commit to a single room layout. Featuring panels that offer outstanding acoustic performance, our partitions come supported by an extruded aluminium frame which is sturdy yet lightweight enough to be operated by almost any individual.

Connected by highly flexible rotating hinges, the acoustic partitions can be configured to a wide variety of shapes to suit any space. Each panel is covered in either soundproof fabric or sound reflecting polycarbonate to help you manage noise within the room.
Selecting Your Soundproof Folding Room Dividers
Got any questions about acoustic room dividers? Consult a specialist today

Rolling into position, folding out, and locking into place in moments, our soundproof folding room dividers are popular across a wide range of industries and can be used in almost any indoor space for a variety of purposes.

To ensure that you purchase the correct acoustic walling solution, here are some things to consider:

Considerations Before Selecting Acoustic Room Dividers
Pinnable soundproof fabric or polycarbonate acoustic partitions?
Is echoing a problem in your building?
What is the size of your space?
Will the partitions require regular cleaning and disinfecting?
Acoustic Fabric vs Polycarbonate Panels
Your choice of acoustic soundproofing materials will determine how sound behaves in your space.

Our freestanding sound absorbing panels, for example, are covered in an acoustic fabric which not only helps to reduce noise within a room, it can also minimise echoing to create a more pleasant environment for all. The pinnable fabric surface also allows pictures, memos, events, notices, and more to be pinned directly to the surface of the partition.

Our polycarbonate soundproof accordion room dividers, on the other hand, are designed to reflect sound, meaning they can help contain noise, but won't do anything to prevent echoing. Made from medical-grade and waterproof fluted polycarbonate, these partitions are easy to wipe down and disinfect during cleaning.
When to Use Polycarbonate Panels
When hygiene and cleaning is a priority, such as in the medical or food industry
When medical-grade material is needed
When splashing and soiling is likely, such as in a restaurant
When echoing is not a problem within a space
When to Use Freestanding Sound Absorbing Panels
When a room is prone to reverberation, such as in a large, echoing space
When a pinnable surface is required
Perceived Acoustic Performance
Have a question about the performance of our acoustic soundproofing materials? Consult a specialist

Made from high quality acoustic soundproofing materials, both our fabric and polycarbonate mobile partitions offer excellent noise controlling properties. But choosing which acoustic soundproofing material is right for you will depend on your needs and the space available to you.

What Perceived Acoustic Performance Can You Expect?

Due to their freestanding design, our room dividers are set on wheels and have a gap at the top and bottom. As sound travels through air, some sound will still be able to make its way to the other side of the partition through these gaps.

Freestanding Sound Absorbing Panels (Fabric)

Our soundproof fabric acoustic partitions feature an NRC rating of approximately 0.5. However, the freestanding design means that perceived noise reduction will be less and will vary from room to room.

Soundproof Room Dividers (Polycarbonate)

Featuring fluted polycarbonate panels, the hard surface of these soundproof room dividers will reflect most noise. This means echoing may appear to increase within the space, but overall noise will be reduced on the other side of the partition to prevent external distractions.
Have any questions about purchasing soundproof accordion room dividers? Consult a specialist
Enhance Privacy and Comfort in the Workplace
Breaking up large, open plan rooms into more quiet and private spaces, our soundproof folding room dividers can help create a more comfortable environment for all.

Acoustic room dividers can be set up in an open plan office as temporary office partitions, meeting rooms, or breakrooms, and can then conveniently be folded up and stored away when not in use.

If you're looking for a smaller partition that can be slid between office desks, we recommend our 3-panel acoustic screens.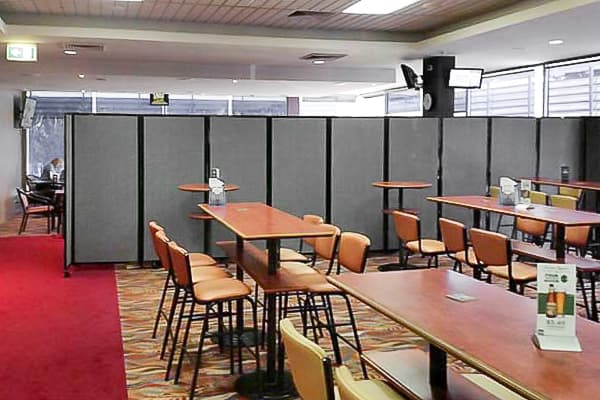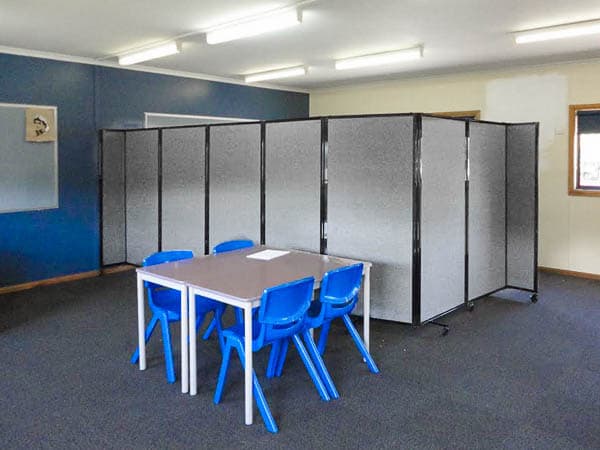 Create a More Productive Learning Environment
A noisy environment is rarely conducive to learning. Our acoustic walling solutions are the perfect option for enhancing productivity and supporting learning at school.

Acoustic operable partitions can easily be set up in large spaces such as gyms to create temporary learning areas or activity rooms, or can even be used as classroom divider walls to break up larger classrooms into two. Offering an effective barrier against distracting sights and sounds, our soundproof folding room dividers can help maximise focus and productivity at school.
Hygienic and Easy to Maintain
Hospitals can be busy and noisy places, and while patients would much prefer to have their own private rooms, hospitals are rarely able to offer this luxury, particularly during times of increased illness, such as during a pandemic.

Our medical-grade polycarbonate soundproof room dividers are a perfect compromise between getting the most use out of your rooms, and offering patients a more private space.

Made from waterproof polycarbonate, which is resistant to spills, stains, and other accidents, our medical privacy screens on wheels can easily be wiped down and disinfected to maintain a healthy and hygienic environment where patients can rest and recover in comfort.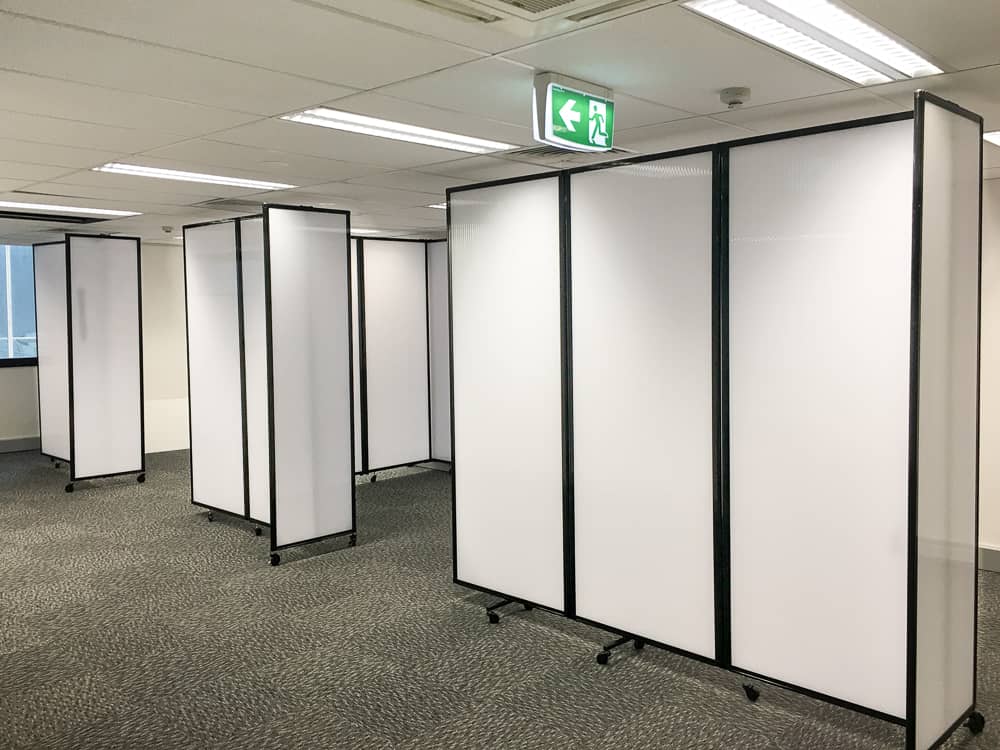 Why Choose Movable Soundproof Partition Walls?
Got any questions about purchasing custom acoustic room dividers? Consult a specialist

While some sound-isolating properties have been sacrificed to achieve their highly flexible and portable design, our movable soundproof partition walls still offer outstanding acoustic performance.

They also offer greater freedom to customise any space as they require no costly installation by a professional builder, and can be set up by almost any individual without the need for heavy lifting or a team of operators. That means you can save both time and money while enjoying the benefits of one of the most versatile acoustic walling solutions on the market:
Complimentary delivery and installation within 48 hours anywhere in Singapore
Freestanding, go-anywhere design means no costly or permanent alterations to your building
Flexible acoustic operable partitions can be set up on almost any indoor surface
Neatly folding screens can be transported and stored with ease
Lightweight construction and smooth-rolling wheels mean almost any individual can operate them
Need Help Choosing Your Acoustic Room Dividers?
Get expert advice from the friendly team at Portable Partitions.