Acoustic Screens
Increase Privacy, and Minimise Distractions with Portable Acoustic Screens
Supporting workplace productivity, increasing patient comfort, or offering a better learning environment for students, our 3-panel portable acoustic screens can be used in virtually any space and industry.

Made with either acoustic fabric, or sound-reflecting fluted polycarbonate, the panels of these soundproof screens come mounted on either sturdy legs or smooth-rolling wheels, and are supported by a lightweight yet durable aluminium frame. This makes them easy for virtually any individual to use without having to lift them at all.

Each panel is connected by a flexible rotating hinge system that allows the acoustic screen to be configured to a range of different shapes to suit any space.
Which Portable Acoustic Screens are Right for You
Have questions about buying an Acoustic Privacy Screen? Chat with a specialist
Rolling into place and locking into position in moments, our free standing acoustic screens are used by a range of industries to suit a number of different purposes. Here are some Highly flexible, lightweight, and extremely portable, our soundproof screens can be used in almost any indoor space and are popular across a range of industries. To ensure that you select the acoustic screen that best suits your needs, you may wish to consider the following:
Do you need a soft, pinnable surface, or hard, waterproof panels?
Is reverberation and echoing an issue in your space?
Should the soundproof screen be mounted on a stand or wheels?
What are your cleaning and hygiene requirements?
Soundproof Fabric vs Fluted Polycarbonate
All of our partitions are made from high quality soundproofing materials that offer outstanding acoustic performance.

Our polycarbonate soundproof screens are designed to reflect sound, preventing noise from making its way to the other side of the partition, but they do not reduce echoing within the space. Our soundproof fabric acoustic screens, on the other hand, absorb sound to reduce perceived noise and echoing.
When is Fluted Polycarbonate Best?
When hygiene and regular cleaning is essential, such as in a hospital or restaurant
When you require a medical-grade material
When soiling, splashing, or other messes are expected in the area
When no echo-reduction is required
When is Soundproof Fabric Best?
When both noise and echoing are a problem within a space
When a pinnable surface is required, such as when creating a notice board
The Benefits of a Portable Acoustic Screen
While portable privacy screens don't offer quite the same coverage or sound-isolating properties as fixed walls or rail-mounted partitions, their small, lightweight, and freestanding design make them a superior solution when flexibility is a priority.

Portable acoustic screens require no costly installation process, can be assembled in as little as five minutes, and can be positioned in just moments by almost any individual without any heavy lifting. This makes them more versatile, cost-effective, and much easier to operate than a rail-mounted partition.
Free shipping and installation anywhere in Singapore
No need for permanent alterations, so portable screens are ideal for rented or multi-use spaces
Lightweight design for easy setup and transport without heavy lifting
Can be operated by almost anyone and set up in moments
Neatly folding for easy storage when not in use
Got any questions about our acoustic soundproofing materials? Consult a specialist
Our portable acoustic screens are a small, 3-panel visual barrier that offers some sound controlling properties. If you're looking for a bigger partition that offers greater acoustic benefits, you may wish to take a look at our larger acoustic room dividers.
Perceived Acoustic Performance for Portable Acoustic Screens
Due to their smaller, freestanding design, our portable privacy screens are set on wheels or legs and have a gap at both the top and bottom. As sound travels through air, some sound will be able to reach the other side of the partition through these gaps so perceived noise reduction will be less.
Soundproof Fabric Screen

Covered in pinnable acoustic fabric, our soundproof fabric screens are designed to absorb both noise and echoing within a space. The panels boast an NRC rating of approximately 0.5, but as they're freestanding, the total perceived noise reduction will be reduced and will depend on the space they're placed in.
Soundproof Polycarbonate Screens

Designed to reflect sound rather than absorb it, polycarbonate is a hard surface that will reduce the noise that reaches the other side of the partition, but will not reduce echoing. In fact, this acoustic soundproofing material may appear to increase perceived echo in the space.
Applications and Benefits
Got any questions about purchasing portable privacy screens? Consult a specialist
Create a More Private Work Environment
Lightweight and highly versatile, portable privacy screens are an excellent solution for improving comfort and productivity in the workplace while minimising distractions.

Popular in corporate environments, our 3-panel office screens can be placed between desks so employees can focus on their work. Polycarbonate folding partition screens can help prevent distracting noises from making their way into your employees' workspace, while acoustic fabric screens can minimise perceived noise and echoing.

If you're seeking a larger partition for temporary meeting rooms or dedicated workspaces, take a look at our folding room dividers which range between 2.59m and 7.62m in length.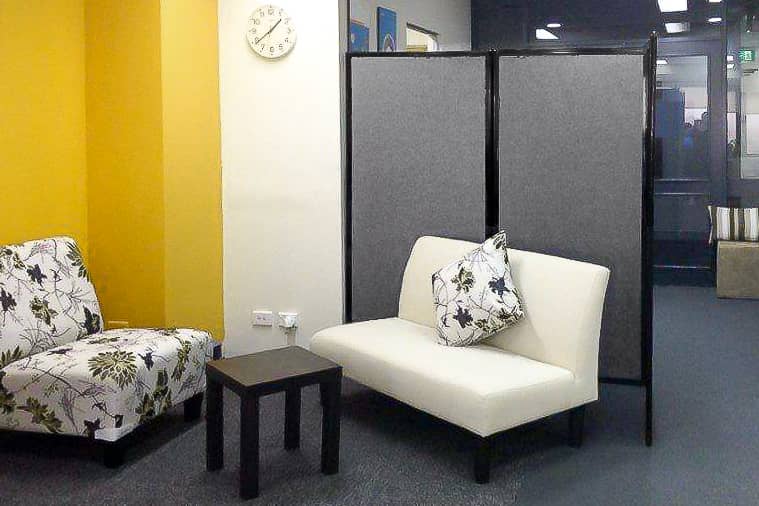 Support Student Learning
Schools are often busy and noisy places, which can make it difficult to keep students focused on their work. Support student learning and productivity by creating a quieter, more comfortable, and more private environment with our range of classroom screen dividers.

Featuring large panels made with soundproofing materials that offer outstanding acoustic performance, our portable privacy screens are a cost-effective solution for blocking out distracting sights and sounds at school. The fabric acoustic screens can even minimise echoing, which is a major source of distraction in the classroom.

If you're looking to divide an entire classroom in two, you may wish to look at our larger, movable partition walls, which gives you up to 7.62m of wall length.
Improve Comfort and Privacy for Patients
In times of increased illness, such as during a pandemic, overcrowding can make hospitals a loud, uncomfortable, and even unhealthy environment for patients and staff alike.

Our medical-grade polycarbonate screens are designed to be portable, easy to set up, and easy to store when not in use, making them an excellent solution for temporarily overwhelmed hospitals.

Waterproof and easy to clean with just a wipe, this 3-panel partition can be used as a ward screen that not only acts as a germ barrier, but also blocks sights and sounds between beds for a more comfortable environment where patients can rest and recover from injury or illness.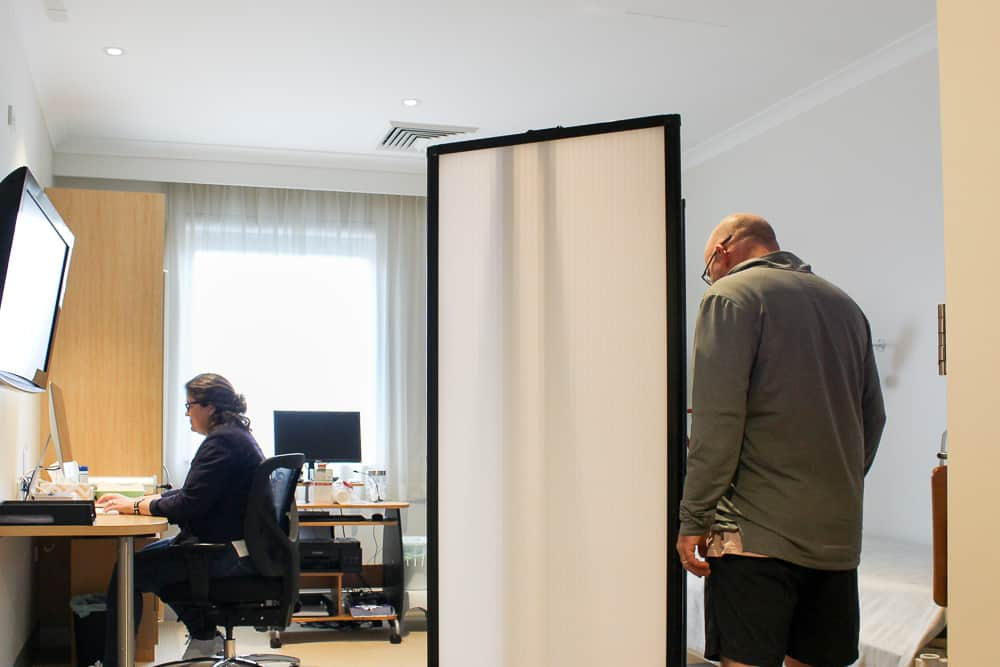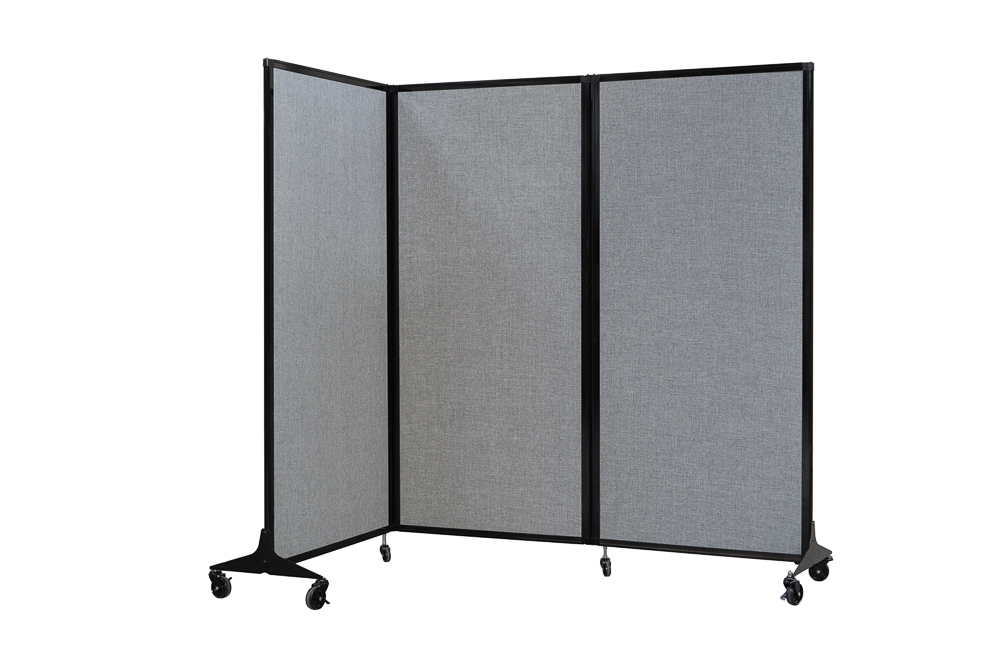 Block Public Access
Sometimes, it's difficult to prevent the public from wandering into off-limits areas, but with our portable screens, you can easily create a barrier that blocks unauthorised staff.

Perfectly sized for blocking passageways, these screens can have warnings or 'no entry' signs hung over the top of the panels or pinned directly to the fabric surface to warn people away. The lightweight design makes it easy for authorised staff to pass through, while the entire screen can simply be folded up and taken away when no longer required.
Visual Displays
Our acoustic fabric screens make visually striking displays, noticeboards, or data walls.

Notes, events, flyers, decorations, menus, and art can all be pinned directly to the fabric surface to personalise the space or keep patrons, students, or employees up to date with the latest news. The tip-resistant design also means that you can hang objects such as framed photos or artwork over the top of the panels without causing them to topple over.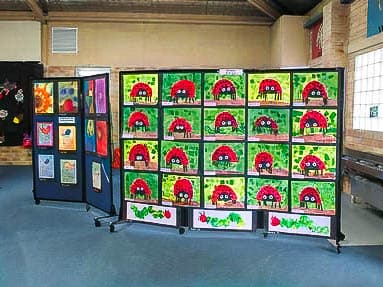 Let Us Help You Find the Right Acoustic Screens
Chat to our friendly team for expert advice.